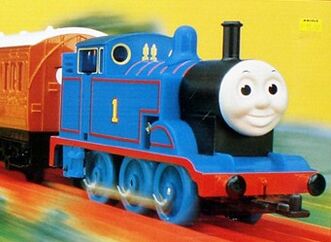 In 1985 shortly after the TV debut,
Hornby
released their range of engines and rolling stock, of these items were the clockwork sets. The first sets ran on standard 00 gauge track. Usually consisting of one engine and two pieces of rolling stock.
Thomas
and
Percy
were the only two engines produced in original clockwork form, there were a number of rolling stock produced: Annie, Clarabel, Tidmouth Milk Tanker, Shell Tanker, extended red truck, extended blue truck, extended green truck and extended yellow truck. The sets were released with two different types of track, 'Playtrains' had orange track and red track, both compatible with each other, the rolling stock for these sets had red plastic wheels rather than proper Hornby wheels, the other being standard 00 gauge track. The sets with 00 track went on to be re-released in the 1980's and 1990's.
Another form of clockwork engines released by Hornby was in the 1990's to early 2000's. These sets were descibed as 'Wind-Up' as appose to clockwork but where the same system. Thomas was remodeled to have 6 wheels, his predecessor had 4 wheels. Also in this range Bill, Ben, Percy and Toby were released. The track was red plastic but wasn't 'Playtrains', the sets came with a trackmat. Other items in these sets include: Troublesome Trucks, Annie and Clarabel and signals.
Bertie was planned for the clockwork range in 1997 but was cancelled for unknown reasons.
The clockwork range was Discontinued in 2003.