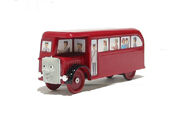 Bertie

Released:

1988 (only in Thomas and Bertie set)

Re-released:

2005 (available seperatley)
Bertie was first introduced in 1988 in the Thomas and Bertie set. He was laterly released seperatley in 2005. He is now retired from the range.
Bertie is so far, the only non-rail Thomas character to date, to be released by Hornby. 
A clockwork Bertie was planned for release in 1997 but cancelled for unknown reasons.
the bertie that came with the thomas and Bertie set had slightly different stickers from the 2005 version.